Hello LJ world.
It's been a funny Christmas and I'm going to proceed to pour out my thoughts on it below, however, I know my life isn't that interesting so I'm going to put things under headers/Lj cuts. Anyone who wants to read to the end gets a cookie!
Christmas Chronology
Friday 23rd December
Finished wrapping presents etc on Friday, as well as writing cards and things. Then, it was delaying going home to my Mum's. I don't know why I was delaying going home, but I was. However, I set off, took my recycling to the recycling centre and made it to my mother's for 3.30pm. Greetings were okay and we got on well. Ended up going out and getting druuuuuuuunk on Friday night with my friends from home. It was a very good laugh and ended after midnight. Strangely though I didn't make any noise when I got back to my Mum's flat. Although I did put a tub by the side of the bed just in case. I had a really weird night with little sleep, waking up regularly to use the mens room, at one point having a really bad back because I'd pinched a cushion from the living room sofa to use as a pillow. Hey, I was drunk!
Saturday 24th December
Woke up feeling awful, despite gulping water the night before. I'll never learn. Delayed going to pick up Dad for as long as I could, took a bath and my Mum very kindly made me breakfast. I thought it was going to be a BIG bowl of something but it was two slices of toast! Not what I needed to soak up alcohol. Still, I was grateful for whatever I got. Picked Dad up from the respite home at 11:30 ish and took him back to Mum's. Mum made a roast beef dinner and we all watched
The Secret Garden
on TV. I've read the book for English Literature at University and had forgotten how good the story was. Brilliantly acted by all.
We followed this with
Hound of the Baskervilles
and silly chat then presents! Nothing exciting for me unfortunately, as I'd bought some of mine from my parents and wrapped them myself. Dad believed me when I said that he'd told me to get my present from him as he knew nothing about Xbox games. He seemed happy with his presents, though I don't know if he's used them yet (I got him some videos and sketching pencils + watercolours).
Mum recieved a phone call from an upset friend and seeing as I was going past the friends house anyway to take Dad home (well, back to the care home) I offered to drop her off (which Mum hadn't thought of and thought was a great idea as this friend was going to be alone on Christmas day). Took Dad home (which was heartbreaking for reasons I'll write about below), came back, picked Mum up (and spent time with Mum's friend which was good, she seemed to appreciate it).
Spent the evening watching TV I think, Mum went to bed early and I watched House on her DVD player (which, thank to the internet I'd made Region FREE). Christmas Eve watching House, a great way to spend it I think. :)
Sunday 25th December
The big day. Woke and Mum came into my room with a plastic bag of presents. Made me smile first thing in the morning anyway. Mum spent the time whilst I was opening my presents in the bedroom to open her presents from her 'male friend' in the living room (he'd sent her a big parcel). So it was kind of anticlimatic. However, I was pleased with my gifts and Mum was pleased with hers from me (when she got round to opening them).
Then it was off to Granddad's, exchange presents there and off to Christmas lunch at my Aunty and Uncles (on my Mum's side) along with my 19 year old Cousin andmy Great Aunty and Great Uncle. That was fun, especially the part where my Granddad and my Great Uncle got together and started moaning about the state of the world, including using the phrase "In our day..." which made myself and my cousin laugh lots.
Exchanged a few more presents here, some got laughs and everyone seemed pleased with what they got which is all you can say really. :)
Ended up back at Granddad's early evening, proceeded to relax in front of TV with Mum and Granddad. Watched and laughed at Christmas Who Wants to Be A Millionaire Celebrity edition, especially at how the gorgeous and devine Martine McCutcheon managed to work with her partner to lose thousands of pounds for charity when they gambled and they should not have done. It meant that I didn't watch Dr Who though. Ooopps! I've already apologised to
for this.

Boxing Day (Monday 26th December)

This is what symbolised boxing day for me:-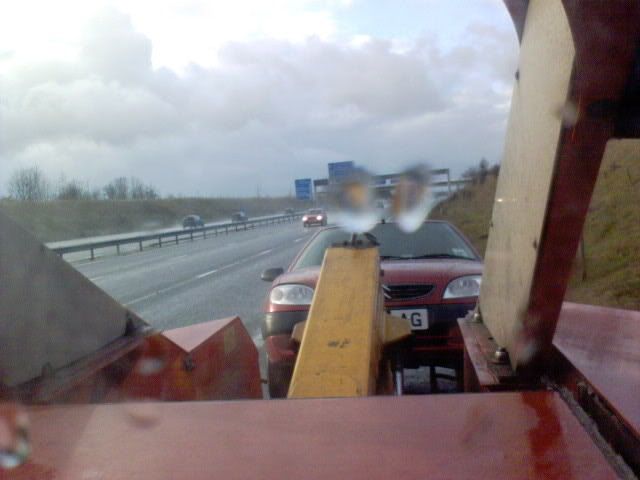 Mum's car broke down on the way home from Granddad's, the exhaust snapped in half. Ooops! To help her out (because I'm so sensitive) I read her mechanic and car jokes from my joke book. LOL. Got towed home by a very nice bloke who helped my Mum stay calm. No trouble at all.

Watched the Coronation Street Panto on Boxing Day. It was awful, really bad. Ended up going out drinking too, and going to a club (which I never do). Was mucho fun.

Tuesday 27th December

Got up late, read my book. Chatted with Mum for a bit then watched Pay it Forward on DVD. It STILL makes me cry, even though I've seen it time and time again. Why is that? *sniff* such a great film!

Ended up back in York on Tuesday night and have been here ever since. Have spent little time accomplishing anything useful.

And now, my pressies:

My Presents from Santa Claus

I didn't do too badly this year. I recieved (in order that they come to mind):-

Quantum Leap season 2 DVD
Taito Arcade Legends Xbox Game
Man Walks into a bar joke book
Lots of Lynx Smelly stuff, Christmas must be their best time of year. Haven't noticed any women falling over themselves to get to me yet though
David Baldacci Last Man Standing book
James Lee Burke's The Neon Rain, Heaven's Prisoners, Black Cherry Blues
Money
A mini hip-flask and mini Jack Daniels to fill it
Chocs
HMV gift voucher from Druid X. Thank you!
Sheryl Crow Wildflower CD and Katie Melua's Piece by Piece CD from Lisa. Thank you too!
Rather snazzy Only Fools and Horses van key-ring which, rather logically, is now host to my car keys.

If there's anything I've forgotten I apologise. Please feel free to beat me up for forgetting!

Next, family stuff:

Family Stuff

Family stuff wasn't as bad as I'd expected it to be. There were a few mentions of Paul and how he hadn't contacted me or my Mum or sent a card or done anything remotely 'normal' but once this had been established the subject was quickly changed. Granddad was upset that this was going on, he got quite angry at one point, more frustrated that things had reached such a point rather than anything.

Dad was ok as well on Christmas Eve. Well, up to a point. Every so often he'd get up, wander round the apartment and stare out the window. It was puzzling to watch and he did it time and time again, I suppose he could have just been looking out the window but still...

The other major thing with Dad was when I was driving him back to the home. Everything went fine for half the journey. I dropped Mum off at a friends and myself and Dad carried on. Then Dad asked me where I was taking him as he couldn't remember. I said the home and he was very puzzled as he couldn't remember what the home was or anything. Also, a few minutes later all I can describe it as is that the gears of his brain 'slipped' as he suddenly said "I can't for the life of me remember what we were doing this weekend. Where've we been?" Which upset me greatly as it was only Saturday night. I explained as best I could then, thankfully, we reached Beverley and talked about how great Beverley is instead.

I did miss 'the relatives who shall not be talked about' though.

And finally, friends stuff, including many thank yous:

I've really appreciated my friends this Christmas. Thank you to ALL of you who sent me Christmas cards. Look at my stash here: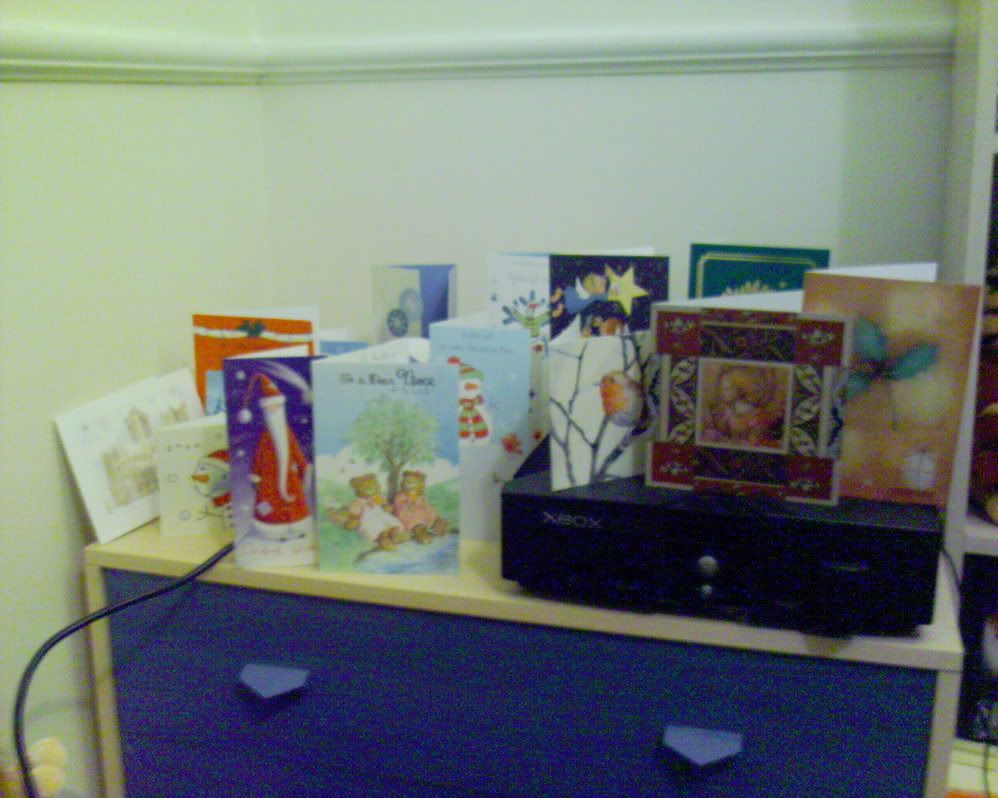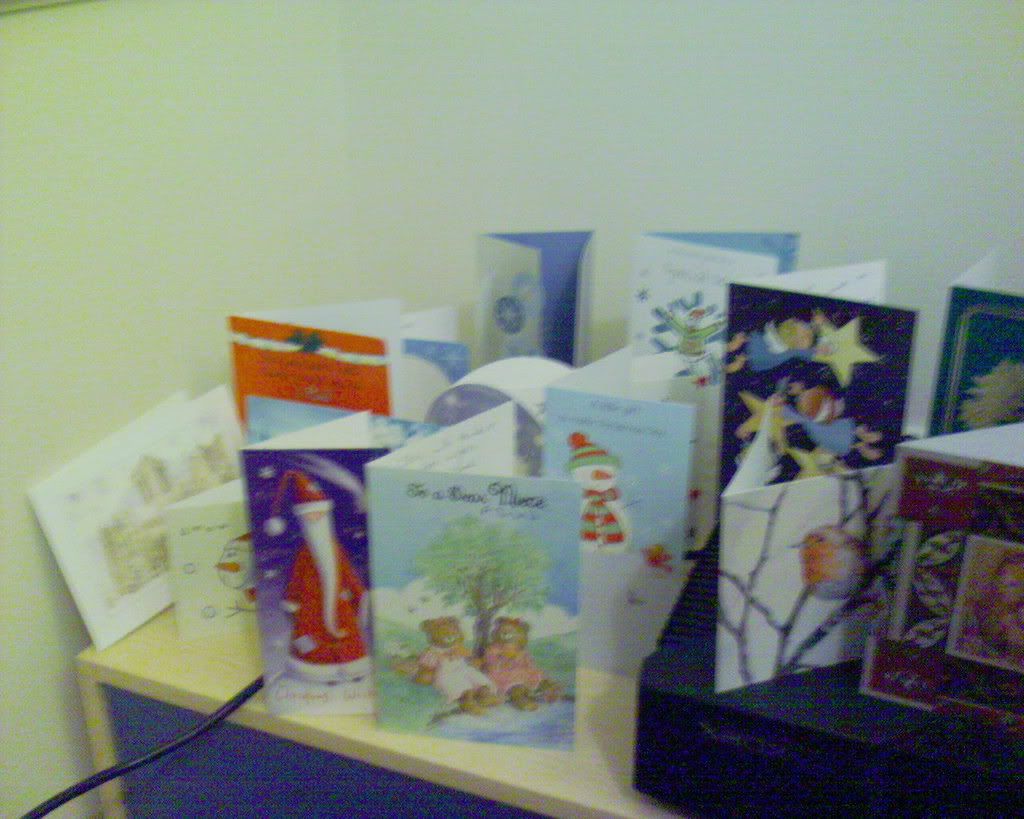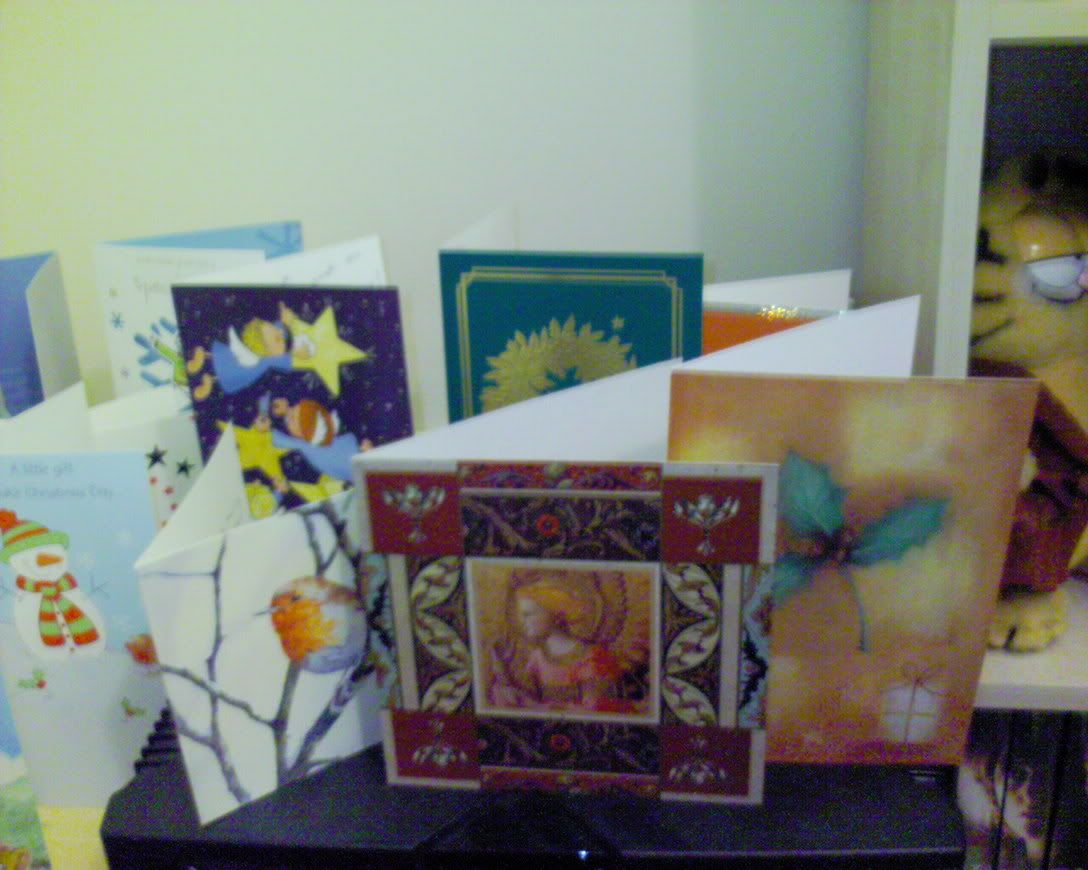 (click on piccies for bigger piccies)

I'd like to thank my RL for just hanging with me around Christmas, but they don't read this so :P :P :P to them, lol.

If I don't post before (unlikely) I hope everyone has a great New Years, whatever you're doing. I'm hopefully spending it with a friend who's being forced to come back to York to work so I thought I'd bug him and we could drink then visit the Minster at Midnight. Sounds good to me. I've got DVDs to watch though! :P