Does anyone else think that this: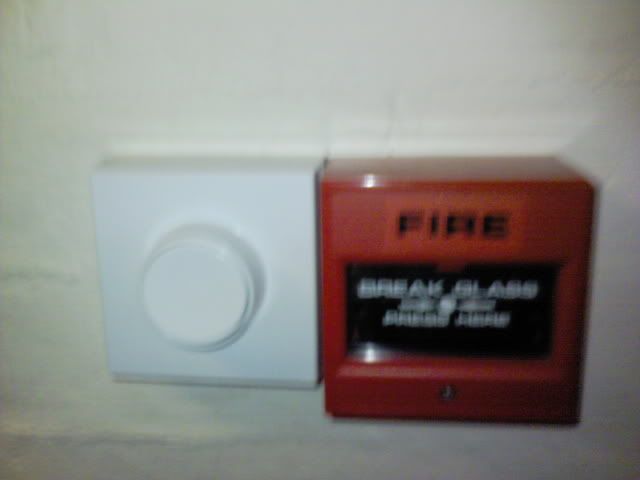 is a very silly placement of either the light switch or the fire alarm in our block of flats?
I'm curious as to how many times the fire alarm has been raised by a clumsy person trying to hit the light switch.
Oh, and
this is the funniest news story ever
! I'll quote it:
Cash error thief jailed
by
Megi Rychlikova
A BLUNDER involving £50,000 of police money has put a plumber with business debts behind bars.

British Transport Police headquarters intended its money to go through an electronic bank transfer to a company called Sanderson Weatherall, Rupert Doswell, prosecuting, told York Crown Court.

Instead it ended up in the bank account of plumber Neil Craig Sanderson, 36, then of Crombie Avenue, in Clifton, York.

When the police force discovered the mistake, it tried several times to get him to hand the money back.

But, Sanderson moved some of the money out of his NatWest account, and was using the police cash to pay off his own business debts.

Sanderson, now of Rose Street, off Haxby Road, pleaded guilty to stealing £20,983.50 from British Transport Police and was jailed for four months.

The Recorder of York, Judge Paul Hoffman, said: "He thought: `Goody, goody. I know perfectly well I'm not entitled to it."

He told Sanderson: "This money fell into your lap through someone's incompetence or inadvertence. The temptation was handed to you on a plate and you could not resist it."

Mr Doswell said the remaining £29,637.19 of the money was still in the NatWest account when the police got it frozen.

For Sanderson, Simon Reevell said his client got his wife to phone British Transport Police to check that he was entitled to the money. She was told the bank transfer was correct.

Only then did Sanderson start to use the money. He transferred some of it out of the NatWest account because he feared his wife would use it. Sanderson did want to repay all the money. (my emphasis)

The court heard that his business was failing, and that he now worked as a stores manager. Mr Doswell said Sanderson had been living in the marital home at the time of the offence, but was now living with another woman.

The police force realised the mistake in spring 2005. Records revealed where the money had gone and the police sent repeated letters to Sanderson to try and get it back. But he did not answer them.

Only after he had had time to return the money, did the force put detectives on the case.

A spokesman for British Transport Police said: "It was a very costly error of judgement by Mr Sanderson."
Updated: 09:31 Wednesday, February 15, 2006
So it was a mistake by the transport police, then, later, it became a mistake for greedy Mr Sanderson. Sure, some money ends up in your bank account you're gonna think "Who's going to miss it?" The answer is, when it's £50K, lots of people are going to miss it! Did the guy REALLY think he could get away with it? Dozy idiot. Someone is going to notice £50,000 is missing, even if the plonkey at the end of the phone told your wife the transfer was correct. Did she ask WHY they were getting the money? What it was for? No, because deep down they knew they shouldn't have it. Some people. :P
I love my bolded sections though - he used the money to pay off business debts but now works as a stores manager, so that tatic worked. Then, he moved the money because "he feared his wife would use it." ROFLMAO!!!!!!!!!!!!! Obviously not a happy marriage, a suspicion compunded by the fact that he's now living with another woman.
Like I said, best news story ever.
In other news, my self-confidence/enthusiasm has deserted me today. Got 4 jobs to apply for and just can't face doing any of them. *Sigh*. No real reason to it, and it's not laziness, I just feel sad and fed up and annoyed, but I don't know at what. Oh and guilty, I feel guilty for not doing the applications, and for not ringing Dad this week.
Life sucks. But it sucks less for me then for the people in the above news story.
Someone come and give me a kick will you?
Technorati tag:
silly photograph
,
sadness
,
job hunting