Blogathon 2007!
I've resurrected this blog to serve as my platform for
Blogathon 2007
. I'm gonna blog in set-B hopefully (if my manager will give me the Sunday off) from
Sunday 29th July 2007
5
AM
(o_O) until Monday 5 AM . My chosen charity is the NSPCC because:
There's only 13 days to go so I'd best prepare.
All I ask is that you please sponsor me. You heard right:
Sponsor me please!
I'll be back sooon with more Blogathon stuffs!
Chris out.
EDITED TO ADD:
What's this blogathon stuff all about then?
It's where someone blogs every 30 minutes for a whole 24 hours. Blog entries can be about anything, contain anything and be in whatever style the blogger pleases. For this effor people (friends, family, co-workers, strangers) sponsor the blogger and give money to the blogger's nominated charity. As you can see, mine is the
NSPCC
. The sponsors can sponsor by the hour (as, even with the best of wills, people fall asleep) or in a lump sum. Money is NOT given to the blogger or to Blogathon, by clicking a
sponsor link
the sponsors are put in touch with the blogger's nominated charity directly. The charity recieves 100% of donated funds and
Blogathon
regularly raises hundreds of thousands of pounds for charities.
It's just another fun way to raise money for charity really.
So it's all for charity?
Yup, every penny. :D
How can we prove you're blogging every 30 minutes?
Easy. There are monitors over at
Blogathon
who check all submitted weblogs to make sure updates have been done. In this age of RSS that's easy peasy! :D
Also, this year, I'll be uploading a webcam image every 30 minutes like the following: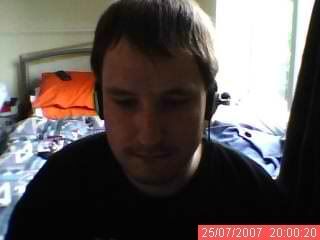 As you can see - the time and date are in the corner. So I can't escape! :)